Greenwich Village Wire & Metal Collection

The creative wire & metal forms of 1960's Greenwich Village artisans.
Customer's Comments About Susan's Jewelry
I love Susan's jewelry!  Her collection is always evolving and then I find new surprising treasures. On request, she created a necklace for me that is quite wonderful.

Mary Jo G.
Susan Ryza's jewelry is beautiful, unique and very special.  I have been a customer for many years, and love the various styles and designs that she has created.  I always get compliments when I wear Susan's earrings – my jewelry of choice!  And it's affordable too!  What more can I want?

Ishara B.
Susan is a genius with jewelry and the only person that I let design and build the necklaces that I wear on a daily basis . I receive a huge amount of compliments from my peers and it is all down to her magic.

Shane P.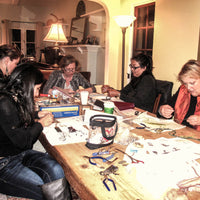 Susan's Classes
Learn to make jewelry with Susan...offering private classes, group classes, jewelry-making parties & events for children or adults. Susan teaches a wide range of jewelry techniques, including Beadstringing & attaching clasps, Wire-Wrapping, Bead Weaving, Advanced Wirework, Macrame, Knitting & Crocheting with wire, Chain Maille, Wire Weaving, Metal Stamping and much more!
Class Info
Reviews of Susan's Classes
Susan is an outstanding instructor! She is very generous with her time and talents. She also brings enormous variety in terms of types of projects. I am always in awe of Susan's ability to elevate each student's understanding at whatever level and project they are working on - in English or Spanish!

Andrea B.
Susan's class makes a huge difference in my life. I love working with my hands and I look forward to the class day. Susan is a terrific teacher!

Susan T.
Susan shows remarkable patience & knowledge, as well as generosity. Susan Ryza is a teacher who is a master of her craft. She presents projects that are interesting and diversified, with the appropriate materials readily available. She is patient and thorough and is aware of individual differences and modifies her lessons accordingly. She is outstanding!

Marilyn K.
Jewelry Repairs
For those living in the Los Angeles area, Susan offers restringing, pearl knotting, clasp attachment and other repairs at reasonable prices. She can also create your specially-designed piece to order if you have an idea you want to make into a reality!
Call or text Susan at 310-944-1299 or email susan@susanryza.com to arrange an appointment.
NOTE: Susan does not do repairs that require soldering.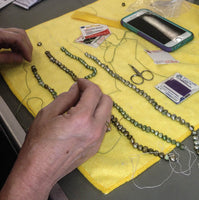 Testimonials for Susan's Jewelry Repairs
I highly recommend Susan to repair any jewelry you have that needs fixing so you can wear it again.... Susan is personable & helpful. She also is reasonable in her pricing & completes your repair in a timely manner.

Kathleen D.
I've known Susan for several years, having met her in a class that she was teaching. Since then, I've been taking my own jewelry to her for repairs and having her design and make custom jewelry for me. I've brought her a variety of jewelry to repair and her work is always beautiful, impeccably skilled, done in a timely manner and prices are very reasonable. She can advise on various ways to repair and what the resulting look will be. Bringing in and picking up is easy and convenient.

Jory F.
Susan is terrific! She is very attentive, personable and her prices are very reasonable. Most important, she is very knowledgeable about jewelry making and repair. So happy to have found her. 40 years of accumulated jewelry needing repair are now getting new life.

Antonia D.