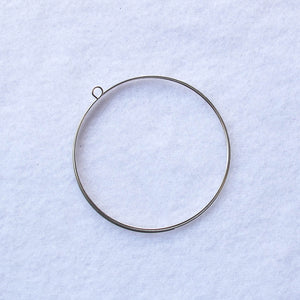 Memory Wire is a pre-coiled wire that retains its shape to create single-or multi-strand bracelets that always stay round. It comes in large rolls of coils, like a slinky, in a variety of diameters. It must be cut with special heavy-duty pliers to avoid ruining softer blades.
Memory Wire gets slightly larger when beads are added, so:

Use 2" diameter for average wrist size (about 7" circumference).
Use 1-3/4" for tiny adult wrist or child's wrist.
Use 2-1/2" for extra-large wrist.
Comes with pre-made starter loop.